Kevin Pech
Professor Ramos
English 102
23 June 2018
Addressing the Homeless Crisis
            A drive around the local area that encompasses the cities of Redlands, Highland and San Bernardino; a problematic situation can be observed. On Alabama Street, the road that links Highland and Redlands together; people have begun to inhabit the chaparral-like land of the Santa Ana riverbed. Camps are established on vacant lots and public parks like Seccombe Lake Park and Meadowbrook Park near downtown San Bernardino. A community of lean-to shelters have blocked sidewalks near the intersection of 9th street and Waterman Avenue. In Redlands, there is a now abandoned Marie Calendar's, where people with nowhere to go take refuge. At freeway offramps there are beggars holding signs asking for spare change. Before beggars often being handicapped, laid-off employees or military veterans. The Inland Empire is suffering a homeless crisis and it is not just a local problem. Many cities throughout the United States are reporting similar situations. These are people who have at some point in experienced hardships that they were unable to recuperate from and have resorted to living in squalid conditions. No person should have to live such an impoverish lifestyle, especially in a country that considers itself as the "best country in the world" and "the land of opportunity".
According to the U.S. Department of Housing and Urban Development, on any given over 600,000 people are homeless and it is estimated that approximately 2.3 to 3.5 million American experience homelessness annually (Baker).  Homelessness and its causes and effects, is such a large umbrella, that it can affect practically anyone: individuals such as adults, adolescents, and children. Entire families can be without a roof over their heads and even college students are susceptible to homelessness. People end up homeless for a variety of reasons such as having a low or fixed income and being unable to pay high rent costs. According to Journal of Housing and Community Development writer Lisa Baker stated,
"Rising housing costs and changing wage patterns mean that risk of homelessness is increasing in all household sizes across America…As more households earn less—even as they work more hours…and work in more unstable jobs without employer-paid benefits—the "working poor" segment is expanding faster than any other demographic in this country. They are slipping further behind and blurring the lines between households who may have experienced only short-term homelessness and those who have traditionally been seen as more susceptible to chronic homelessness."
An article by the Journal of Public Health further cements Baker's statement by suggesting, "The economic conditions that gave rise to family homelessness were as prominent in 2012 as 25 years previously. The US Census Bureau reported that income inequality…increased since 1968 with a sharp and steady rise from 1976 through 1998…In 2012, the average annual income for the most impoverished one fifth of American households was $20,510." (Grant et al.)  Other cause of homelessness including fleeing domestic violence, having trouble adjusting to civilian life after military service, being unable to rely on family support, being disabled, and abusing drugs or alcohol. A study found, "alcohol-use disorders, drug-use disorders, and poverty were each found to prospectively predict risk for-first time homelessness" (Thompson et al.)
The people that are most susceptible to experience homelessness are veterans, victims of domestic violence, aged out foster youth, and those with early childhood trauma. Some shocking statistics include, "Veterans make up 33 percent of the chronic homeless population…92 percent of homeless women have experienced physical or sexual assault at some point of their life. 36 percent of those experiencing homelessness…are families and it is estimated that over 50,000 children spend six months of more on the streets each year" (Baker).  Regarding foster care, a study was conducted in Oklahoma regarding children in foster care and the relation to homelessness. The study indicated, "research consistently has shown that youth who age out of foster care do not receive the same type of support and assistance as many of their peers, and therefore may be at higher risk of experiencing homelessness" (Crawford et al.). The study also found, "between 31% and 46% of youth who aged out of foster care experienced at least one episode of homelessness by the age of 26…further, they found that running away, placement instability, being male, a history of physical abuse, engaging in delinquent behaviors, and having symptoms of a mental health disorder were all associated with greater risk of experiencing homelessness" (Crawford et al). These examples demonstrate how diverse and complex the homelessness crisis is and how anyone is susceptible to becoming destitute. Currently there is no solution that can completely eradicate homelessness, but there have been attempts to tackle to problem.
One possible solution to combat homelessness has two stages. The first stage is to provide shelter for the homeless. It is inexcusable to have people living out in the streets. The method of providing housing for the homeless is irrelevant if they have access to basic facilities such as restrooms. The most common form of shelter that the homeless have access to are homeless shelters that provide place to stay the night. Yet there are other alternatives. "'In California, homeowners have a legal right to add what is technically known as an accessory dwelling unit in their backyard or garage…", says Phil Ansell, director of the county's Homeless Initiative Office. The county [of Los Angeles] is conducting an ADU pilot program in which homeowners can receive forgivable loans to subsidize the construction of ADUs for homeless people on certain parcels of property". (Segal). Los Angeles County voters also, "approved a quarter-cent sales tax to raise $355 million a year over a decade to help with services such as homeless outreach, shelters and housing. In 2016, Los Angeles city voters endorsed $1.2 billion in bond funding for 10,000 units of housing." (Segal) And in Denver, Colorado eleven 8×12 housing structures were built. "Supported by the city government, the tiny houses are a six-month pilot program to house a handful of homeless individuals. Each home has heating and electricity; communal bathrooms and food-preparation space also stand on the lot." (Nathanson)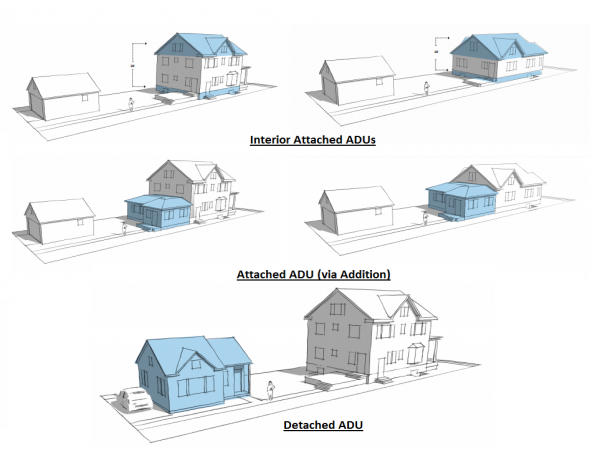 Stage two is to provide counseling the homeless to provide them with resources and information to hopefully bring them out of poverty. In Santa Monica, California a local library has become a sanctuary for the homeless. "The library [added] a social worker, as well as services officers charged with ensuring proper use of library facilities. The system additionally is holding resource fairs for the homeless to point them toward city and county services for their varied needs, such as getting an ID card, locating a Veterans Affairs facility, getting help with their social
services paperwork or getting mental health care." (Segal). Unfortunately, not everyone will complete agree with these ideas. Not everyone would be willing to set up an accessory dwelling unit and allow a stranger to live on their property while cities tend to hide the problem rather than to solve it. "Cities across the country have passed laws meant to crack down not on homelessness but on its visibility. 'Cities are under a lot of pressure to do something about homelessness and visible poverty in their midst, and they have responded through a misguided attempt to simply outlaw the presence of visibly poor people,' says Maria Foscarinis, executive director of the National Law Center on Homelessness and Poverty." (Nathanson).
To resolve the homeless crisis, it will take a collective effort from everyone and cooperation between cities, states, and federal government. The proposal will not completely solve homelessness. Its main intent is to assist those that are already suffering from homelessness by providing them with temporary place to stay at the same providing them with guidance and resources to put their lives back on track. The following steps that should be taken next should be measures to prevent homelessness.
Annotated Bibliography
Segal, Elizabeth. "A Haven for the Homeless." U.S. News – the Report, 11 May 2018, pp. C10 http://search.ebscohost.com/login.aspx?direct=true&db=a9h&AN=129580573&site=ehost-live
This article elaborates on the homeless situation occurring in the city of Santa Monica, California. This article gives reason to why the city has a homeless problem and gave a solution that might resolve the problem. I might incorporate this article into essay because it provides a cause to homelessness and provides a possible solution. This article come from Crafton's library database to it is fairly reliable.
Nathanson, Rebecca. "Denver's Crackdown on Being Homeless." Progressive, vol. 81, no. 7, Oct/Nov2017, pp. 30-34. EBSCOhost, http://search.ebscohost.com/login.aspx?direct=true&db=a9h&AN=125262621&site=ehost-live
The article discusses legal restrictions on homeless people in Denver, Colorado, citing measures taken by cities across the U.S. to reduce homelessness. It states that Denver ranks in the nation's top ten major cities in its numbers of homeless families with children, and mentions that in 2012 Denver passed a law trying to address the city's increasing visible homeless population. I could incorporate his article into my essay with the information and statistics regarding homelessness and critic the effectiveness of measurements passed by the US government. This article came from ebscohost so it is reliable.
BAKER, LISA A., et al. "MANY PATHS, ONE DESTINATION–New Directions and            Opportunities for Ending Homelessness: Part One of a Two-Part Series." Journal  of Housing & Community Development, vol. 73, no. 2, Mar/Apr2016, pp. 6-15.            EBSCOhost, http://search.ebscohost.com/login.aspxdirect=true&db=a9h&AN=114457113&site=ehost-live
The article presents a discussion of the public housing authority collaborations in the U.S. under the Housing First model, adapted from a white paper from the Homelessness Task Force of the Community Revitalization and Development Committee. Topics discussed include the factors that can lead to homelessness in the U.S., the steps taken by the U.S. government to battle homelessness and the role of public housing authorities in addressing the issue of homelessness. There is also a part two to the study. Article cites reason and causes of homelessness and possible solutions to fix problem.  Article was found on ebscohost so it is reliable.
Thompson Jr, Ronald G., et al. "Substance-Use Disorders and Poverty as Prospective Predictors  of First-Time Homelessness in the United States." American Journal of Public Health, vol. 103, no. S2, Dec2013 Supplement, pp. S282-S288. EBSCOhost, http://search.ebscohost.com/login.aspxdirect=true&db=ehh&AN=92518684&site=ehost-live
This is a study that indicates alcohol and drug abuse are indicators of homelessness. I can incorporate this source into my essay as an example that homelessness is a problem that should be addressed. This source was found on ebscohost so it should be reliable.
Grant, Roy, et al. "Twenty-Five Years of Child and Family Homelessness: Where Are We      Now?." American Journal of Public Health, vol. 103, no. S2, Dec2013 Supplement, pp. e1-e10. EBSCOhost, http://search.ebscohost.com/login.aspxdirect=true&db=ehh&AN=92519241&site=ehost-live
A study regarding child and family homelessness. Family homelessness became a problem during the 1980s and the stud suggests the causation of family homelessness of the past is in line with family homelessness now. I can incorporate this source into my essay to further indicate the problems that homelessness links to as well to demonstrate that homelessness can happen to anyone. Source found on ebscohost.
Crawford, Brandon L., et al. "Factors Influencing Risk of Homelessness among Youth in  Transition from Foster Care in Oklahoma: Implications for Reforming Independent Living Services and Opportunities." Child Welfare, vol. 94, no. 1, Jan. 2015, pp. 19-34. EBSCOhost, http://search.ebscohost.com/login.aspxdirect=true&db=ehh&AN=122436344&site=ehost-live
Study that indicates that children that live in foster care are more likely to become homeless at some point of their lives. Study was conducted with a sample population of foster children from Oklahoma. Can incorporate this source into my essay to further demonstrate who is likely to become homeless why it is a problem. Source found on ebscohost.
Hong Jae C. AP Photo. Anaheim Struggles With Growing Homeless Crisis at River Camp. 15 Sept. 2017. https://www.nbclosangeles.com/news/local/Anaheim-Homeless-Crisis-River-Camp-444718273.html
An example of a "tent city" further demonstrating the magnitude of homelessness has taken.
St. Paul Minnesota. Accessory Dwelling Units: General Information. https://www.stpaul.gov/departments/safety-inspections/accessory-dwelling-units
A visual diagram indicating what an accessory dwelling unit looks like.